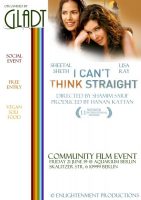 Screening and discussion / Film und Diskussion
– there will be Vegan Soli-Food available! / es wird veganes Essen geben!
"I Can't Think Straight" directed by Shamim Sarif
Produced by Hanan Kattan
Tala and Leyla could not be more different from each other, but the attraction is immediate and goes deeper than friendship. But Tala is not ready to accept the implications of the choice her heart has made for her and escapes back to Jordan, while Leyla tries to move on with her new-found life, to the shock of her tradition-loving parents. Moving between Middle Eastern high society and London's West End, I Can't Think Straight explores the clashes between love and marriage, conventions and individuality, creating a humorous and tender story of unexpected love and unusual freedoms.
English with German subtitles / Englisch mit deutschen Untertiteln (1 h 22 m)
There will be time for a discussion round after the movie (English/German) / Nach dem Film wird es eine Diskussionsrunde geben (deutsch/englisch).
This Event is organized by: Gladt e.V.
Details