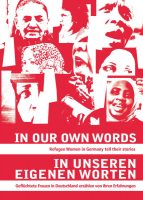 Book Launch & Celebration
On the international day against violence against women, directly after the annual demo by the AllianShow hinzufügence of Internationalist Feminists, you are invited to join International Women Space and friends for the launch of In Our Own Words 2.
The book documents the lives and stories of refugee women in Germany. The evening is about exchanging stories and experiences from and about the book and beyond. And the authors want to celebrate with you!
More information on the web-page: iwspace.de
Details