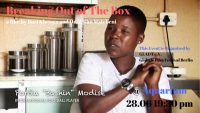 Stories by black South African lesbians, personal stories in a political landscape
a film by Busi Kheswa and Dr. Zethu Matebeni
Film Screening and Discussion with wonderful South African Food
Donation will go to a local collective of black and peripheral south african lesbians…
Duration: 40 Mins / Language: English / Trailer: Youtube
Synopsis:
"Buhle Msibi's poem I Break The Boxes provides the title for this wide-ranging, touching, often funny documentary highlighting the lives of black lesbians in South Africa. The title is appropriate; by telling the tales of six high profile women, the sheer breadth of experience in the black lesbian community is revealed, the profiled women all having redefined their set parameters in one way or another. They are a well-thought out mix of voices and bear compelling witness to an epoch that has seen gay rights go from zero to hero. "
The discussion round will be in English language.
There will be Soli-Food available. All the donations will go to a local collective of black and peripheral south african lesbians…
This Event is Organized by: Globale Film Festival Berlin and Gladt e.V.
Event at Facebook
Details