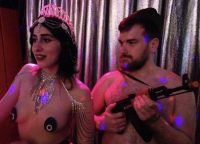 A campy parody of phallic power, The Miss Nipple Show is a faux queen comedy show feminizing, homo-eroticizing and satirizing traditional figures of absolute hetero-patriarchal power; currently starring Dildogan, world's first queer femme PoC Dicktator sharing the despotic spotlight with nobody except her supreme strap-on.
As we reached our season finale; we the penetrables, we the new proletariat, dancing to the disco beat of our Rectavolution, right at the entrance of the Dark Room, hopped on Dildogan's Midnight Express for a magical carpet ride through dicktatorial herstories from the Orient and came back with tremendous anal wisdom.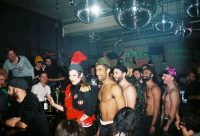 Churchill once said, "Those who fail to learn from Herstory, are doomed to repeat outfits". But your second fave Fascistnista Gaddafi would tell you that some outfits are so fabulous they are worthy of repeating. Taking the dance moves of other great dicktators to the next level, Dildogan, who has never queefed nor worn a plastic dildo, has everything it takes to defend Homonationalist Fashionism against our enemies, like a domptop. Or so she thinks…
Backstabbing Heterrorists have been plotting against us and political strategists suspect that the season finale will be a night Dildogan will never forget.
Attendance is WOMANDATORY in the name of patriotism and irresistible FOMO, because you can't spell PHALLUS without the ALL of US.
Details