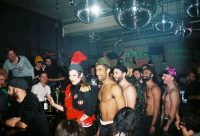 A campy parody of phallic power, The Miss Nipple Show is a faux queen comedy show feminizing, homo-eroticizing and satirizing traditional figures of absolute hetero-patriarchal power; currently starring Dildogan, world's first queer femme PoC Dicktator sharing the despotic spotlight with her strap-on.
It is not my revolution if there is no lube in the darkroom" (insta)famously said Dicktator Dildogan, the Top Homonationalist Fashionist ideologue. She will very presidentially coin more vague and empty buzzwords and phrases at this month's rally where she will initiate the foreplay of Rectavolution.
Following last month's top secret Homonational Security Rally, where the public got schooled on "Operation Indoor Sunglasses" combatting the Heterrorist offshoot Douchebag Elite Terror örganisation (DETö) who has devised a deviously secretive sign language under the disguise of harmless gestures or Instagram poses, the most common of which are the "High Five" and the very misleading "Peace Sign in a Gym Selfie", the Dicktator will showcase fabulosity and radical utopias as well as fantastic deals to bring more rim jobs to Daddyland this Spring.
Unlike the passivity of previous bad (and pathetic) administrations, Dicktator Dildogan's foreign, economic and social policies are Nur Aktiv. On the offense against our Heterrorist enemies occupying the swamp that is hetero bars, clubs, sports events, Australia and McFit Kottbusser Damm with its new decor; Dildogan will make masculinity non-toxic again!
Attendance is not mandatory, it's womandatory!
You know it: You can't spell phallus without all of us
Details