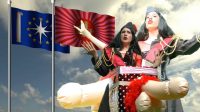 This season, The Miss Nipple Show, the faux queen comedy show satirizing, feminizing and homo-eroticizing traditional figures of absolute hetero-patriarchal power; will double- penetrate the Südblock stage as Dildo Dialogues, unveiling a new character with the same old phallus.
Transitioning to a double-parody of phallocratic power and white benevolence, Dildo Dialogues will take on subtler, friendlier but equally sinister power structures in the form of dialogues between Dildoğan, world's first queer fem PoC Dicktator, and Angela, the brutally humane leader of the free white world; both performed by the same radicalized fag-hag.
This spectacular sword fight between the supreme Homonationalist Fashionist strap-on and the universal strap-on of human rights will be followed by an lascivious after-party where we dance to the demise of the Oedipal civilization.
Details