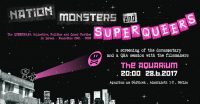 Documentary, 34 min., Israel-Palestine, Germany
Screening and Q&A
Drinks, screennig and opportunity to discuss the movie with it's interviewees and creators:
About a decade ago in Israel-Palestine, the Queerhana was formed – a queer collective who opposed oppression and war, and created its own alternative rave reality. These unlicensed parties were carnivals of chaos, created by outrageous, gender and nation defying performers. The parties were non profit, and their slogan 'If you accept, you are accepted' was calling everyone to participate.
More than ten years later the creators and participants of these events speak about how they perceive their past movement and how it influenced their lives. Could this queer movement be possible today?
The result of these interviews is a collage of these voices – nostalgic ones, powerful ones, creative ones.
all of them unites: they will always carry Queerhana in their hearts and draw from it – and spread what they learned there into the world, to Berlin, Tel Aviv, Haifa, London, and where ever else it took them throughout the years.
Produced within the nGbK project "THIS IS A FREE ZONE – Queerhana in the context of autonomous movements in Israel/Palestine from 2001-2009" at nGbK
(Exhibition until 2 July 2017)
Event auf Facebook
Details